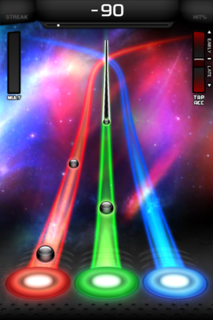 Ever wanted to rock out on your iPod or iPhone to a track from
Lady Gaga
(let me throw up now, but whatever) or
Linkin Park
?
Tap Tap Revenge 4
may just be the app for you. Taking a direct page out of the
Guitar Hero
handbook for success, Tap Tap Revenge 4 is everything a musical fanatic could wish for. If you already own one of the previous iterations of the app, though, is an upgrade to this new title worth it? Maybe.
For those of you who have never played a Tap Tap game before, the concept in and of itself is pretty simple. With a song booming in the background, your job is to tap the little bubbles that slide across the screen in perfect sync with the aforementioned music. As you tap more and more notes successfully, a small combo meter will fill to your left, which will eventually hit full and proceed to bestow you with a power-up to further increase your multiplier. Other little upgrades may be present here or there, but that's the basic gist of it all. While the game sounds simple, there are a variety of difficulty settings to bring challenge to prospective players, which makes sense considering the game without them would probably get boring fairly quickly.
For those of you who have played Tap Tap before, there are a few new notables worth mentioning. First and foremost, Tapulous has decided to add full Game Center support, although the ability to earn achievements is strangely absent from this early release. With Game Center, you can play online verses other players, as well as have a chat window among other things to communicate with said players. I guess it depends on your luck, but nobody really paid attention to these features when I decided to try out the online mode. Moving along, Tapulous has also included full retina display support, as well as a slicker (although more cluttered) interface to navigate menus. A new set list was also supposed to be included as well, but with four Tap Tap games out now, it was starting to get hard to keep track of all of the downloadable content to begin with, so whether or not you really enjoy them will depend on how involved you've gotten in the game.
Which brings me to my big sticking point with Tap Tap: the DLC. Once you get past the meager amount of songs that are available to play, most of Tap Tap Revenge 4 becomes one big in-app purchase. For those of you who don't mind paying for the premium content, this probably won't have much of a down-turn on your Tap Tap love. For those of you who hate the idea of having to shell out a truckload of money to enjoy an app, this will probably annoy you to death. It's pretty sound business on Tapulous' part in order to make some money, but still.
If you can look past that little niggle, you'll like Tap Tap Revenge 4. It's a fun app with a ton of stuff to do if you're willing to pay for the extra content, and the online support really only helps its cause. Retina display graphics are a plus, as well as Game Center support. Some achievements would have been nice, but just the fact that they decided to even add Game Center support is a good step in the right direction. If you're on the fence about whether to download or not, realize that this is a free app. If you don't like it, it's a pretty easy maneuver to simply delete it off of your system. It is kind of hard to fully recommend an app that makes someone pay such a high price to fully enjoy it, but if you can look past that, Tap Tap Revenge 4 is the music app to get.